FIRE VICTIMS FUND
 A lifelong member of the Trinitarian Congregational Church was burned out of his home in the gas explosion and fire events on
September 13th, 2018. He has suffered a devastating loss, and could not retrieve any of his belongings as the building was unsafe and has been condemned.
TCC is collecting funds for this individual; if you would like to donate, please make your checks out to Trinitarian Congregation Church, UCC and reference "Fire victims fund" in the memo line. We will also have envelopes available at the church should you prefer to make a cash donation.
Any money the member of our congregation doesn't use will go to one of the other area funds.
Donations may be mailed to:
Trinitarian Congregational Church, UCC
Fire victims fund
72 Elm Street
North Andover, MA 01845
Thank you and bless you for helping a member of our church family.
---
---
HOMECOMING SUNDAY – SEPTEMBER 9th – See photos in the gallery
---
The Rev. Roger Lier spoke on "transition" Sunday, Sept. 2nd. Many thanks to him for filling in.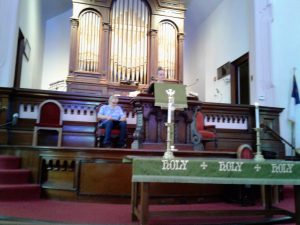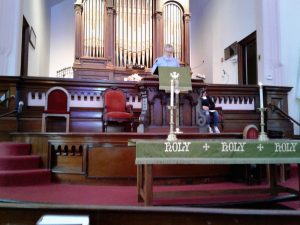 ---
Church Picnic – what a great time!
If you missed this year's church picnic, click HERE to see some pictures.
---
---
Have you noticed…The new lights in the sanctuary? They really light things up! Thanks, Trustees, for making our Sunday morning a little brighter!
---
Bruce Robie's Company has FDA Approval for Device
Bruce Robie, one of our deacons, is COO of FBC Device ApS, a medical device company focused on restoring natural alignment of the spine through innovative interbody implants, and it has received its first US FDA clearance for its technology, enabling access to the US market. Click here to read more!
---
YOUTH MISSION TRIP 2018
The youth of the church, and their adult chaperones, went to Delaware to help update homes. Take a look at the pictures in our Gallery!
---
Mini-Golf on July 15 – And a good time was had by all….
More pictures in the Gallery!

---
Check out this amazing picture taken by North Andover's own Tim Campbell!
---
Have you met Chris Wood?
Our new Music Director started July 1st, come in and listen to his great playing and fabulous voice.
---
2018 Outdoor Service – Grey Skies, Sunny Smiles!
The rain held off and the weather was calm as we celebrated the beginning of summer with an outdoor service. More photos in the Gallery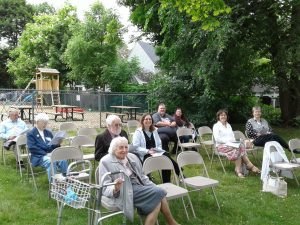 Missions Board lunches delivered to Habitat for Humanity – Gallery
New Photo Directory in the Fall
It has been over 10 years since our last photo directory (2007)! The diaconate would like to publish a new one in the fall, to provide our new settled pastor (and the rest of us) with updated photos and contact information. We would like to start gathering photos now. We can arrange to take your photo after church on any Sunday, or, if you have a good digital photo that you would like to appear in the directory, please email it (or provide it on a thumb drive) to the church office.
Some guidelines
For an individual, the photo should be a head and shoulders "head shot", as it will be reduced in size when we print it, and please give us the highest resolution possible.
For a family, a close-up is best.
Please provide  names, current street address/town/zipcode, phone number and email address. If you want children listed (even if they are not in the photo), please provide their names.
Youth Sunday/Scholarship Sunday – June 10th
Congratulations to the scholarship awardees for 2018:
Trinitarian scholarship: Stephanie Dunbar
Trinitarian Scholarship: Zoe Lathrop
Alice L. & Florence L. Mason Award for Foreign Language — Dorcas Muwanguzi
Barbara Mason Muchowski Award for Chemistry — Patrick Roche
Olive F. Moody Award for Nursing — Alyse Festa
See scholarship winners photos in our gallery
McGrath Baptisms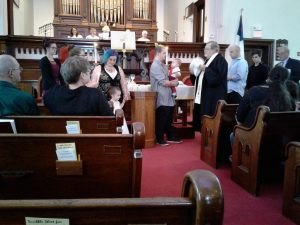 Sunday, June 3rd saw a double baptism! Thomas McGrath VI (Frankie) and Marcilene McGrath (Marcie) were baptized into the family of Christ. See more pictures in the Gallery.
Troop 87 on Memorial Day – Members of Troop 87 took part in the North Andover Memorial Day Parade and helped lead the Pledge of Allegiance.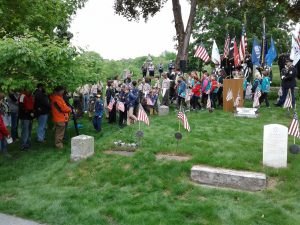 Confirmation Sunday

– Our confirmands joined the church and began their journey as full members of the Trinitarian Congregational and the United Church of Christ. See the pictures in our Gallery
Kelloway Baptism

on Mother's Day Click HERE to see photos from May 13th, 2018
TCC Bowling Party

–  Pictures are posted in our Gallery 
Youth Mission Group at Common Cathedral April 8th – See pictures HERE
March 29th – Maundy Thursday – Lord's Supper and Tenebrae