Summer Fellowship Events Announced!
Join the fun on July 15th as we go Mini-Golf! and on August 12th, we will have another Church Picnic!
Check the home page for links to more information and see you there!
Missions Board lunches delivered to Habitat for Humanity – Gallery
New Photo Directory in the Fall
It has been over 10 years since our last photo directory (2007)! The diaconate would like to publish a new one in the fall, to provide our new settled pastor (and the rest of us) with updated photos and contact information. We would like to start gathering photos now. We can arrange to take your photo after church on any Sunday, or, if you have a good digital photo that you would like to appear in the directory, please email it (or provide it on a thumb drive) to the church office.
Some guidelines
For an individual, the photo should be a head and shoulders "head shot", as it will be reduced in size when we print it, and please give us the highest resolution possible.
For a family, a close-up is best.
Please provide  names, current street address/town/zipcode, phone number and email address. If you want children listed (even if they are not in the photo), please provide their names.
Youth Sunday/Scholarship Sunday – June 10th
Congratulations to the scholarship awardees for 2018:
Trinitarian scholarship: Stephanie Dunbar
Trinitarian Scholarship: Zoe Lathrop
Alice L. & Florence L. Mason Award for Foreign Language — Dorcas Muwanguzi
Barbara Mason Muchowski Award for Chemistry — Patrick Roche
Olive F. Moody Award for Nursing — Alyse Festa
See photos in our gallery
McGrath Baptisms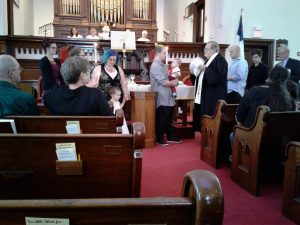 Sunday, June 3rd saw a double baptism! Thomas McGrath VI (Frankie) and Marcilene McGrath (Marcie) were baptized into the family of Christ. See more pictures in the Gallery.
Troop 87 on Memorial Day –
Members of Troop 87 took part in the North Andover Memorial Day Parade and helped lead the Pledge of Allegiance.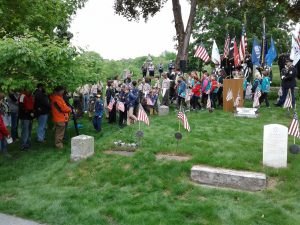 Confirmation Sunday
Our confirmands joined the church and began their journey as full members of the Trinitarian Congregational and the United Church of Christ. See the pictures in our Gallery
Kelloway Baptism on Mother's Day
Click HERE to see photos from May 13th, 2018
TCC Bowling Party
We had 24 people show up for the bowling party – 22 bowlers and a cheering section! Many thanks to Pam Foote for the party planning (and cake!), and our "Secret Benefactor" for paying for the actual bowling. Congratulations to our winners – Crystal Reid for having the high score for the women, and to George Carifio who was the men's high scorer and also had the over-all high score. Copies of the score sheets are available in the office – it seems some people don't want them posted here 😉  Pictures are posted in our Gallery 
Youth Mission Group at Common Cathedral April 8th – See pictures HERE
March 29th – Maundy Thursday – Lord's Supper and Tenebrae