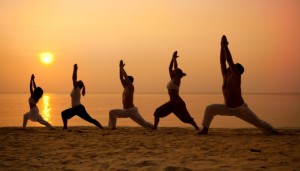 Want a great way to end the week and start your weekend? How about Friday Night Yoga? Kevin Johnson leads an excellent class at Trinitarian Church from 5:30 pm – 6:30 pm. He calls it "gentle yoga" but there's something for every level of experience. Kevin also shares a deep sense of spirituality as he leads the class. The cost is only $10.00.
Kevin is a certified Hatha yoga instructor (RYT 200 hrs), mental health counselor, amateur folk musician, and a seeker of beauty in life. He feels things deeply, but also loves intellectual pursuits and sifting through philosophical issues to get at their core.
Kevin teaches several styles of yoga, including his own creation called Meditative Flow. He believes that in addition to physical health, yoga leads us into a deeper awareness of our emotional, psychological, and meditative selves. As such, Kevin's classes are always taught with warmth and caring for every person in the room, and you will find he uses a lighthearted approach to help you improve your practice. Come have fun and experience the joys of a yoga class designed just for you.