Thank you for your interest in Trinitarian Church! We appreciate your connection with us and hope you'll consider being a part of our congregation. Our denomination, the United Church of Christ, has a saying that we take very seriously: No matter who you are or where you are in your spiritual journey, you're welcome here!
Our worship service is at 10 am on Sundays, led by our Pastor, the Rev. Debra A. Adams.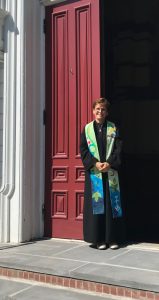 The Trinitarian Congregational Church traces its origins to the very beginnings of North Andover. The first meetinghouse was formally organized in 1645 as "The Church in Andover." It was located near the Old Center. In 1834, due to differences in theology, several members separated from the church and formed a new congregation. In 1865, our current building was built in the center of "Machine Shop Village," which was then the center of North Andover.
Our members come from a variety of religious backgrounds. We believe that this adds to the richness of our fellowship. We strive to hear the Good News in fresh, relevant ways. In other words, our faith is 2000 years old – our thinking is not! There's a place for you here!
To see our welcome brochure, click here
For more information about the United Church of Christ, visit here
To learn more about the  beautiful town of North Andover, visit the town's website https://www.northandoverma.gov/