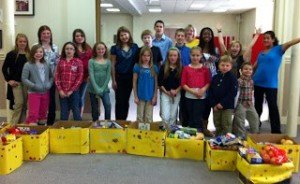 TCC is a church that strives to make a difference in the world!
We're constantly collecting food for 3 local food pantries, and collect for gift cards that are distributed to those in need.
Our pastor and diaconate participate in nursing home services, bringing comfort and cheer to those who are limited in their activities.
Leading up to Thanksgiving Sunday we collect all the items needed for delicious Thanksgiving meals for local families. Our Sunday School children fill and decorate these boxes to add a personal, faith-filled touch.
At Christmas time our "Giving Tree" collects hats, gloves, mittens and scarves, which are given out through the "Communities Together" ministry in Lawrence.
We participate annually in "Communities Together" Lenten diaper drive, which has collected and distributed over 22,000 diapers in the past.
In the Spring we collect funds for the Heifer Project, then select the animals to be purchased and donate to a family in need in a developing nation.
Our youth group goes on a mission trip every summer, doing a week of home repair for those who can't afford it. They scrape and paint houses. They build and repair porches and handicapped ramps. They help repair homes and lives; and in doing so they make God's love visible to those they serve.
These are some of the ways we strive to make a difference in our world. We never rest on our laurels. Instead we strive to hear the voice of God calling us to new and exciting adventures in discipleship and service.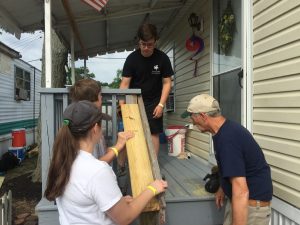 Youth Mission Trip 2017