These are some of the most commonly asked questions and answers regarding Trinitarian Church weddings.
1. Do we marry non-members?  Yes.
2. Do we marry non-Congregationalists?  Of course!
It is expected that at least one member of the couple be a Christian, since what we offer is a Christian wedding ceremony that includes prayers, scripture readings, a brief message, and sometimes a hymn. The marriage ceremony is a sacred service filled with joy, faith and love.
3. Do we offer inter-faith ceremonies?  Yes.
We work with the couple to incorporate traditions from both faiths.
4. Do we offer a traditional or a contemporary wedding ceremony?
We utilize the best of both. Most importantly, each couple gets to personalize their ceremony through the selection of readings, music, and the readers.
5. How many times must the couple meet with the pastor?  Usually three.
These sessions include pre-marital counseling and ceremony planning.
6. How do I schedule my wedding?
Please call the church office at 978-686-4445 and ask to speak with Dorothy, our Office Administrator. Office hours are Monday through Wednesday, 9:00 to 12:30, Thursday, 12:30 to 4 pm, and Friday, 9 to 12:30. If you leave a message, Dorothy will be happy to return your call and answer your questions. You can look at this website and see pictures from the inside and outside of the building, and if you'd like, call and arrange a time to visit.
7. Are there fees?   Yes.
The office administrator or the pastor can discuss this with you. There are modest fees for the use of the building, the minister, the sexton (person who sets up and facilitates the logistics),  the organist, and a soloist, if you choose to have one.
8. Can you perform outdoor/off-site weddings?   Yes.
Our pastor is also available for off-site and/or outdoor weddings. To discuss this please call the church office or email directly at tccpastor@natrinitarian.org.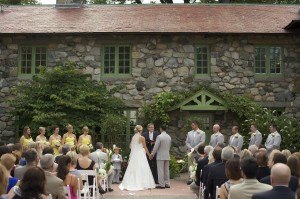 Wedding Planning