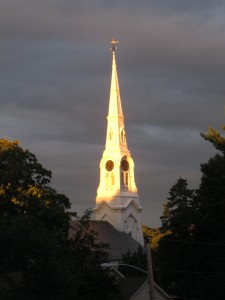 Thanks for checking out our web site! We hope you'll join us Sunday morning at 9:00 am for worship (summer hours) and 9:30 other times of the year. We practice what's called, "Blended Worship," which means when it comes to music we utilize the best of the old and the best of the new.
Nursery care is available each Sunday during the school year. Our church nursery is on the first floor near the kitchen. It's staffed with two volunteers each week. Our children are in worship for the first 10-15 minutes of the service. We have a special message for the kids each Sunday. They come down front and sit in the first pew for, "A Time for Children of All Ages."  Following the children's message the kids go downstairs for Sunday School. They gather first in a circle in Carvell Hall for an opening prayer. New children meet their teacher during this time.
As a church family, we are diverse in appearance, talents, gifts and viewpoints and believe that we are stronger and more faithful because of this. We strive to welcome visitors warmly, yet without overwhelming you!
We welcome the opportunity to meet you personally!