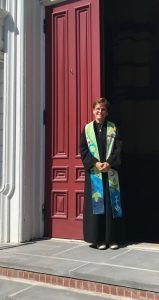 Thanks for checking out our web site! We hope you'll join us Sunday morning at  9:30 am for worship. We practice what is called "Blended Worship," which means we utilize the best of the old and the best of the new. Our pastor, The Rev. Debra A. Adams, is here to welcome you and lead our worship on Sunday.
While the church is not handicap accessible, we do have a chair lift to assist people in reaching the sanctuary for worship.
Children are welcome at the service, and there are "busy hands" materials available.
As a church family, we are diverse in appearance, talents, gifts and viewpoints and believe that we are stronger and more faithful because of this. We strive to welcome visitors warmly, yet without overwhelming you!
We welcome the opportunity to meet you personally