Anniversary Banquet – Sat. May 14
We have a wonderful evening planned for our anniversary celebration! Tickets are $10 per person, $25 for a family. You may purchase a ticket at church on Sunday or at the church office.  Childcare will be provided. Here's the schedule for the evening:
Historical Scavenger Hunt – 5:30 pm
Congregational Photo on the front steps of the church  – 6:00 pm
Dinner catered by The Party Connection – 6:30 pm
After Dinner – "The Waterfront Park Band"
Carol Majahad, Historical Society, presentation/slideshow – TCC & North Andover in 1866
Reflections on Trinitarian Church
Closing Sing-a-longs  – 8:00 pm (approx.)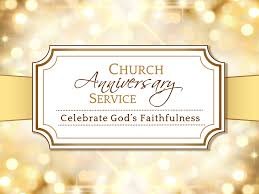 Anniversary Sunday is May 15, 9:30 am.
Rev. Wendy Vanderhart from the UCC Mass Conference will be our guest speaker.
We hope to see you at these wonderful events!!!!