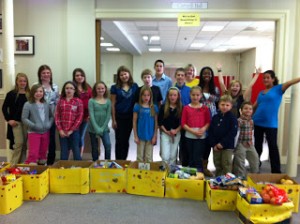 On Sun. Nov. 22 we'll be celebrating Thanksgiving!
Worship's at 9:30 am – Giving Thanks to God is what it's all about! 
Thanksgiving Food Drive – For the past 14 years the Trinitarian Church has donated Thanksgiving food boxes with gift certificates for turkeys, to the North Andover Youth Center.  These boxes are delivered to needy North Andover families.  The Sunday school children decorate the boxes, make cards and donate food. We are asking the congregation to participate! If you could bring in the food items associated with the first letter of your last name, the food boxes will be overflowing!  Please bring the items to church on or before Nov. 22.  Thank-you for your generosity!
A –B   Butternut or another type of squash; quick bread mix
C – E   Canned vegetables and can of cranberry sauce
F – H   Pie crust mix with filling or brownie mix or cake with frosting mix
I – N    Canned fruit and bottle of fruit juice
0 – R   5 lb bag of potatoes
S – T    Fresh onions, canned yams
U – Z   Stuffing mix and can/jar of gravy
Ecumenical Thanksgiving Service Sun. Nov. 22, 7:00 pm at the North Parish Church.