It's that time of year again, we are collecting items for the Thanksgiving Food Boxes that will be given out by the North Andover Youth Center.
Pick the item to donate by your last name. Drop donations at the church 10 am to 12 pm any week day, or call the office at 978-686-4445 to arrange a porch pick up.
Deadline for donations is November 19th.
Help struggling North Andover families have a Thanksgiving Day feast this year!
A-B       5 lb. bag of potatoes
C-E        Fresh onions, canned ya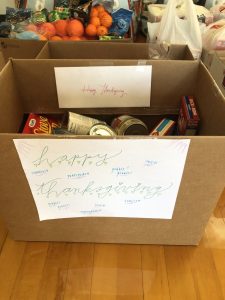 ms
F-I         Stuffing mix and can/jar of gravy
J-N        Butternut or another type of squash; quick bread mix
O-R       Canned vegetables and can of cranberry sauce
S-T        Pie crust mix with filling or brownie mix or cake with frosting mix
U-Z       Canned fruit and bottle of fruit juice