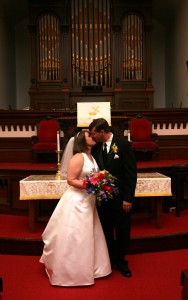 We love weddings!!! And our sanctuary is a very beautiful setting for a marvelous, memorable and faith-filled ceremony!
To arrange for your wedding the first step is to call the church office (978-686-4445) and make sure that the date you want is available. You will need to meet with the pastor usually three times for premarital counseling and to plan the ceremony. You will also need to talk with our organist to select music for your wedding. There are various modest fees involved, which vary slightly according to what you'd like. We look forward to hosting one of the most memorable and significant days of your life!
Check out the rest of the items in this drop-down menu for more wedding information and planning help.